List Marketing Tips: Insider's Info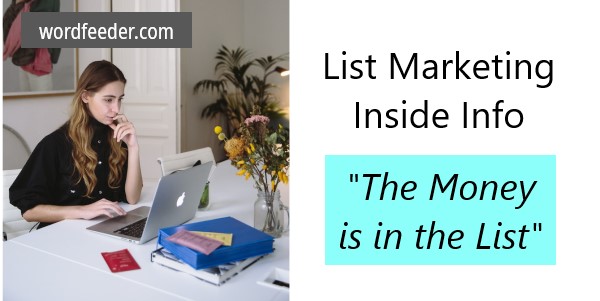 Hey there! If you're here to stock up on terrific PLR (private label rights) content, then you probably know about the importance of list-building online. The money is in the list, you may have heard just a few dozen times from expert marketers.
I was just reading an email from someone I've known from the writing world for some time. Trying to come up with some good tips for her to make the transition to internet marketing.
I have managed to keep a close watch on the world of PLR (private label rights selling) for a few years now. I know that communicating with your list is pretty much the same in both places.
So, if you're thinking of doing business via a list, consider this:
You should sign up for your own list!
It's by far the best way to see yourself from the perspective of your readers. You'll be able to keep tabs on a few things:
You can be sure that your emails are actually getting through, landing in the inbox, or becoming stuck in spam folder purgatory.
You can see if the frequency that you send emails out works for the people who buy what you sell (yes, look at things through their eyes).
You can check the writing to see where you might need to tweak things up better next time. Look at length and formatting while you're at it.
You can make sure the links work. A screwed-up link is very common in internet marketing. If that happens, follow up right away with an apology and the correct link.
You can see how your emails compare to other people who sell what you sell. Sign up for everyone's list in your industry, or at least the people whose emails would matter to your audience.
Why does everyone keep saying "The money is in the list?"
I did a video sometime last winter trying to explain list-building and marketing to people. In the video, I mentioned the value of being an affiliate. Think about it, if you sell a $20 product and make half on it, you get $10 per sale. So if you have 100 people on your list and 15% buy, that is 15 sales times $10 which is just $150. Not so impressive.
But if you have 10,000 people on your list and 15% buy at $10 per purchase, that is $15,000.00! Dang!
That is all I have for today. Enjoy your week, and happy list building!
Dina at Wordfeeder PLR