Done-for-You Content Means You Get to Launch Faster, Bigger and Better
Done-for-You Coaching Content, Blog Posts, Journaling Challenges, Social Media Content, More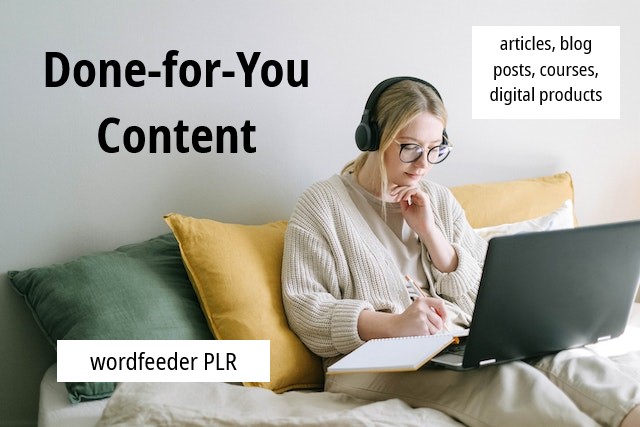 Ready to discover what done-for-you content can do for your online business? The first thing to remember is to ALWAYS think in themes.
What will the THEME of your digital product be this time?
Think of ONE problem your future coaching clients might want your help solving. Or, think of one subject they'd really love to learn about without paying a fortune.
Next, remember that the best coaching content you can get online with private label rights can be multi-purposed across multiple media and channels.
Below, find done-for-you content offered here at Wordfeeder, and by our trusted friends in PLR.
Learn how done-for-you content can quickly and easily be edited into a unique, informative and useful blog post that drives targeted traffic to build your list.
--->6 Steps to Blogging with Done-for-You Blog Posts
---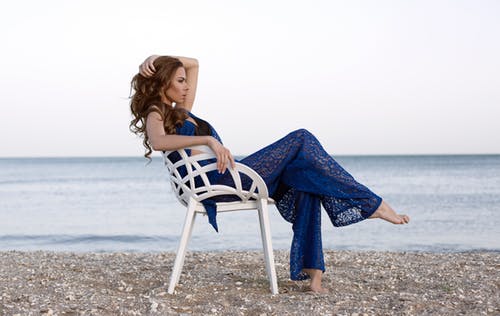 You're a busy coach. You want to create income streams for your online business. But writing all your own content takes FOREVER, and hiring freelancers is costly!
Wordfeeder Offers the Best Quality Coaching Content with Private Label Rights...
--->Explore Done-for-You Coaching Content
---
Private Label Rights Courses Save You Countless Hours. Make Passive Income Online and Help People Too!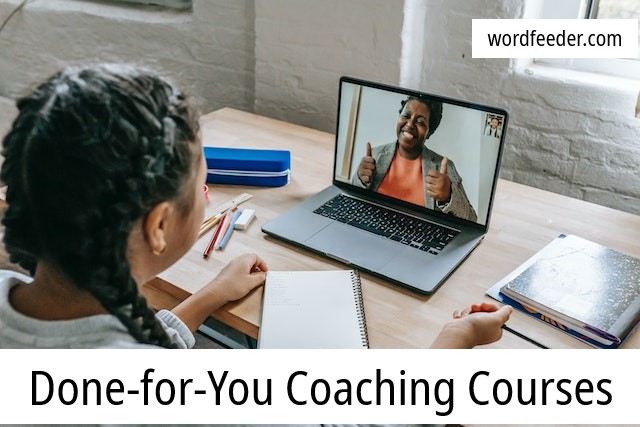 Wordfeeder is your source for done-for-you coaching courses that offer the best quality writing.
Why launch a course?
It's fast and easy when you already have the content written
It's an affordable alternative to pricy coaching commitments
Digital products create another income stream by reaching a new market segment
--->Done-for-You Coaching Courses - Learn more
---
Done-for-you health coaching content puts your wellness coaching business on fast growth mode. Attract the right clients. Roll out digital products. Develop your coaching packages with speed and ease...
--->Learn More: Done-for-You Health Coaching Content
---
Launch our done-for-you journaling challenges to your list. Use them with clients. Host a group journaling challenge on Facebook. There's no limit to what you can do with this wonderful, private label rights content.
--->Done-for-You Journaling Challenges
---