How a Coach (Business, Life Coach, Health Coach) Can Use Printables to Create Profits and Help People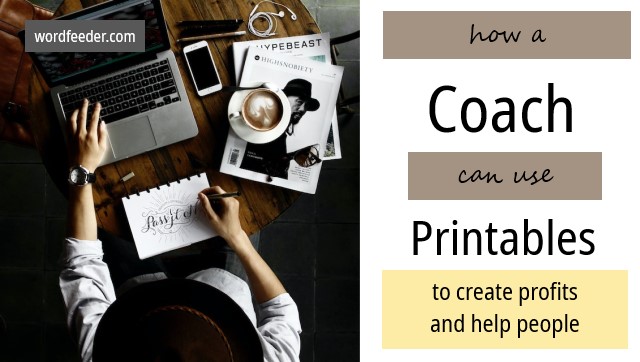 Printables Add Professionalism + Teaching Elements to Help You Attract More Clients and Digital Product Sales. They Also Save You Tons on Design Costs
If you're a coach who purchases private label articles to edit and use as a content publishing shortcut, that's terrific! You've already learned a lot about how successful business owners increase value for their audience and customers. Not only does PLR content save you money and time, but it delivers profit potential.

But what about printables? Let's cover how, even if you're not a reseller of printables, these will work to add polish and professionalism to your business while helping clients grow and achieve. 

First, what are printables? These are design templates that can be customized to fit a theme, then printed by the end user. 

What types of printables are available?

Calendar pages, checklists, coloring pages, ebook templates, journal pages, planner pages, recipe pages and cards, trackers, worksheets, workbooks.

What can your customers do with printable files that you share with them? 

They get the option to print them as needed (print-on-demand), and write or color in them. 

Why are printables great for your business and brand? 

Professional designs take your business up a few notches. Beautiful fonts mesmerize. A clean design and appealing color work wonders to captivate and hold attention. 

For your brand, printables can bring consistency. You might decide you're a pastels kind of coach, or retro art-deco is your style. You can either find printable designs to fit your look, or you can edit (or have your VA edit) the printables you purchase, to reflect your desired colors, fonts, and graphic elements. 

How can you use printables to generate income? 

If you don't already sell digital/info products like ebooks, you can start. If you already do but your documents are undesigned or hokey looking, printable templates will fix this economically AND they're easily changed.
More potential buyers will be attracted to your digital products if they have a sleek, professional look to them. 

You can set them up as lead magnets or opt-in gifts. The great thing about printables is they're in abundance. Setting them up as a free download is quick and painless.
Once you purchase a printables kit which typically contains a zipped folder with files in it, you can simply transfer this folder to your own computer, then upload.
Create a link for your users to click and download the file. Email the link to them. That's it! 

They add value and professionalism to your coaching products, so you can turn them into "packages." A set of informative articles, fitted into an ebook template design, with checklists, worksheets and planner pages added, becomes a legitimate ebook or course for you to teach. 

Lots of printables creators offer commercial resell rights with their products. So you can use these in your coaching packages as mentioned, then edit (or don't edit) the same printables into something fresh and new, and resell them. 

How do you set up a "coaching package" enhanced with printables? 

First, think of coaching (or consulting) as a product and not a service.
Instead of billing by the hour, you bill a flat fee for a set chunk of time, at a discounted rate.
So you could bundle up 4 hours of coaching for this month, and instead of billing at $100 per hour ala carte, bill at $70 per hour (or whatever you charge) X 4.
Instead of $400, your client gets coaching for $280. Then, to sweeten the pot, you offer a package of coaching tools that includes printables.  

How do you provide self-coaching tools using printables?

Not every person who's interested in learning from you will actually want to be coached one-on-one. That's a fact. Don't forget that vast numbers of people buy self-help books but don't sign up with a therapist or mentor.
When you create an ebook to teach this segment of your audience, a new income stream is formed for you.
Some will want the ebook. But still others will go for the bundle pack - the ebook, plus planner pages, goal-setting worksheets, and even some templates to use in THEIR business. 

What types of printable templates can a coach share with their clients? 

If you're working as a marketing or business consultant, pre-designed templates could be a great thing to present to your clients.
You're giving them a shortcut to save them money that they would have spend hiring a designer. You're also saving them time because they don't have to create these from scratch. 

How to use printables in your coaching membership

If you're a coach who offers a tiered membership, here's what this could look like:
Level 1 - basic free membership - password-entry to the client area for some good starter tools, info and resources.

Level 2 - paid membership - same perks as level 1, with extras, like full access to all the resources in your library, or resell rights to your coaching materials including printables, with seasonal and month-long themed additions to the member area.
Example, January's membership delivers a New Year's Resolutions Kit with planner pages, a beautifully designed journal and goal-setting checklists.

Level 3 - paid membership plus perks - same deliverable as level 2, plus they get X amount of coaching hours included

Thinking in themes is the best way to go if you work as a coach or consultant. Example: If you lean toward teaching practical things, then templates like financial planning pages will help you in your work with clients.
You can pass these on as a free gift. Or you can pull them out when it's time to help your clients set up a budget for their business and life.
The templates bring that extra little something that says you're a pro at what you do, because they make you look more organized and together, with a presentation.

Or, if you're a coach who emphasizes creativity, you could grab a cool-looking set of pre-designed journal pages or coloring pages to help inspire creative thinking and goal setting in your clients' lives. The look of these can change depending on the time of year and focus.
Example, gratitude is always big in quarter 4, and you can probably find a beautifully designed set of graitude themed journal or coloring pages for your clients who desire a gratitude practice in their lives.

Another benefit of having access to printables in your coaching or consulting business is that you can offer resell rights to the materials. This can be part of your membership, or a pay-as-you go model so your clients will feel like they have more control over the purchases.
Maybe you decide to partner up with some of the people who buy from you - in which case, they might want to use the printables you create to resell in their own digital product packages. 

You have many options for using printables in your business. The key is to start finding out who the printables creators are who offer private label rights and resell rights to their designs.
And... if you want to grow your printables collection, it's best to jump on the lowest prices when creators run a sale. To do this, you want to sign up to hear from them, and use an email address devoted to this purpose. This will help you set boundaries in your business. 
If new content alerts start coming into the same email address where you communicate with your own customers and clients, that's going to be distracting. So set up a new email address where you can control the times/amount of hours you spend each day looking for new offers on both printable and written content with private label rights.

If all of this sounds great and potentially lucrative to you, let me give you my top picks for printables to use in your business.

Top Picks for Printables with Private Label and Commercial Rights

Lynette Chandler of Thrive Anywhere - very coach-friendly material, beautiful designs
Becky Beach - PLR Beach - year-round themes for work, home, teachers, more
Jenn - Planning Addicts - lots of great themes for adventurists, hobbyists and special interests
April Lemarr's YET - Your Essential Toolbox (new printables site for coaches and consultants) 
Lori Winslow - another designer who does a lot of seasonal and special occasion themes
Rayven Monique's Color Monthly - for the creative types, other printables are sometimes bundled with the coloring pages, like calendars and planner pages
For more great tips like this, sign up for a free PLR article membership at Wordfeeder PLR.
Already a member? Log in and check out the Smart Coach Resources to see what goodies we have for you!

Type in WINNER on your next PLR purchase for 50% off! Explore our Wordfeeder PLR product index here

Wishing you great success with your online business!
Dina at Wordfeeder PLR