Use PLR to Sell More Coaching Products and Programs...
While Working less, Helping People and Having FUN
Are you a life coach struggling to get and keep clients? There's a better way.
Book fewer hours… yet make more money, and help more people. How can you do this?
Switch gears… from selling coaching hours to selling digital products.

Offer ebooks, courses, planners, and classes!

You don't have to create all of your Coaching Courses, Ebooks, Classes and Marketing materials from scratch.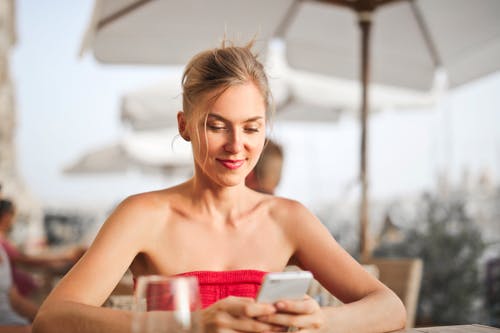 Instead, you can purchase some of your content as "PLR". That means it comes with private label rights.
PLR content comes to you already written, for you to customize, edit, share or sell as your own!
Set up your content you can start to Drive Profits While Helping People Solve Problems... affordably, and with Joy.
Not sure where to start? Okay... first things first.

You need more people on your list. Here's what to do:

Priority One: start collecting email addresses.

Set up an opt-in gift so people will sign up to hear from you.
Run topic-themed months. Here's the simple plan:

Publish articles that target a single client problem.

Set up content to sell as an ebook, online course, video tutorial or email challenge.

Push the articles out on social and link back to your sales page that talks up the course.

Set the digital product at an appealing price point. Limit spots. Fill it up!

Get ready to run your email course, automate ebook delivery, or host your class on social media.

It's EASY, FUN and REWARDING to work as a Life Coach Who Helps People Live Better, Stress Less and Love More Completely!
Plus, your fans will LOVE this affordable, useful alternative to pricy coaching hours.
Need prewritten, Brandable Coaching content to get you started?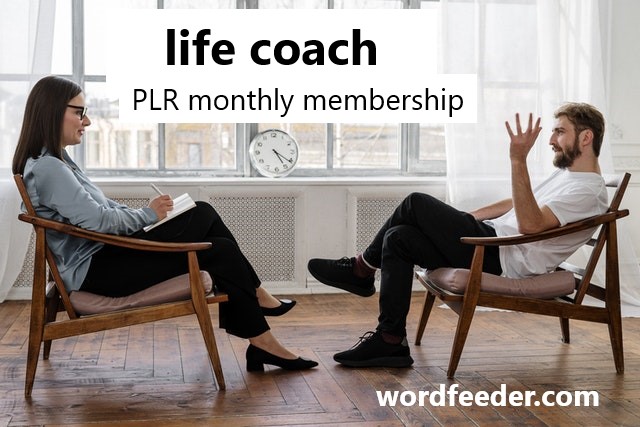 Check out Wordfeeder's Life Coaching PLR Monthly!
ONE low monthly price. TONS of terrific, useful, inspiring articles to publish as your own.

Edit, brand, and share or sell as YOUR unique product!

Sign up, log in and test drive a free article right now.

Love our content? Use it to make courses, ebooks, client materials and more.
Visit Wordfeeder.com for some of the best quality life coaching articles around.
Sign up today at Wordfeeder.com.

Here's what to do with done-for-you content...

Post a video slide show of tips on your blog, to drive targeted traffic.

Publish a single article in a blog post. Share the link on social.

Buy a pack of articles on a single topic. Make into an ebook download to share as an opt-in gift.

Combine several article packs to make an in-depth ebook to sell!
Here's what else you can do with PLR:

Use the articles and ebooks to help clients work on individual challenges.

Use the ebook content as the basis for your next online class or workshop.

Turn several ebooks into a course to sell. Use the content to create a video, ebook, student assignments, checklists, planners and more for your course!

Publish a PLR article in your next email newsletter.

Make PLR recipes into video content by filming the recipe as you make it!

Turn a series of PLR recipes into an online cookbook! Think themes – healthful holiday recipes, low carb Thanksgiving, The Colorful Plate, From Garden to Grill…

Add articles to your weight loss member area to increase value for your clients.

...anything else you can think of!

Wordfeeder has a terrific, PLR Monthly membership.
You get a fresh pack of articles, recipes or product descriptions each month, for ONE low price!
Never tried our PLR? It's some of the best quality around. Just sign up as a member, to test drive our content for FREE!
Log in, grab your free content, and start publishing immediately.

FREE Gratitude Article: "Using Gratitude to Attract More of What You Want"
Here's a screen shot sample of the content: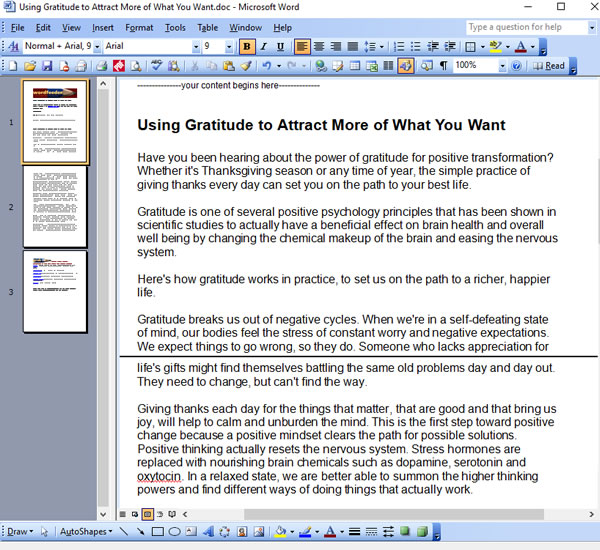 Use the below sign up form to create a member account on our site and download your FREE Article right now: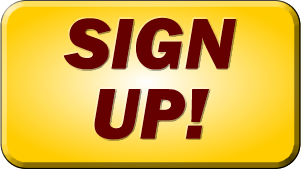 How to Access Your PLR Content:
Once your order processes, you will be asked to create a login to the Wordfeeder member site. Do this, then check your email for a confirmation, plus another email containing your delivery of the files.
If you have any questions or trouble with your download, email me and I'll get back to you as quickly as possible.
PS: Don't forget! In addition to this high quality article, you also get a TON of free content once you log into the Wordfeeder member area. Check the top menu and look under FREE PLR to see what's offered.

THANKS for supporting my freelance business. CHEERS to you in yours!