August 2023
Customizing a Weight Loss Plan that Works for Your Life PLR Articles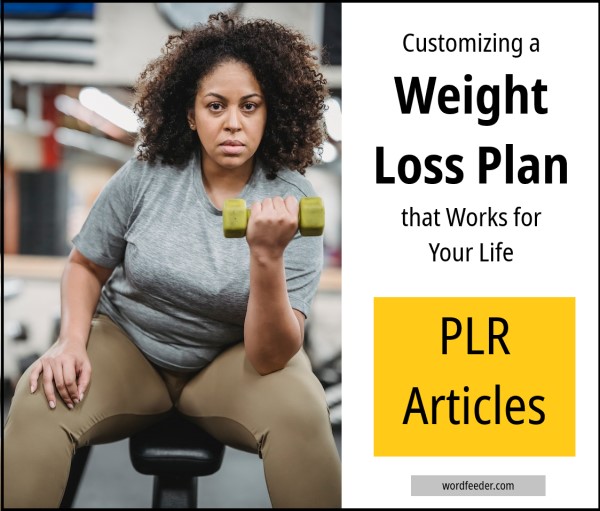 Titles include:
Intro: What's the Right Approach to Weight Loss for You?
Finding Your Fitness Fit: Customizing an Exercise Plan That Works for You
Setting Realistic Weight Loss Goals: Assessing What You Want to Achieve
Personalized Nutrition: Exploring Healthy Eating Options Tailored to Your Preferences
Creating a Calorie Deficit: Finding a Sustainable Approach to Weight Loss
Enjoying Exercise: Discovering Physical Activities That Align With Your Interests
Scheduling Your Success: Carving Out Time for Fitness in Your Busy Life
From Habits to Self-Care: Transforming Unhealthy Behaviors into Positive Practices
Emotional Eating: Understanding and Addressing the Psychological Factors in Weight Loss
Individualizing Your Weight Loss Plan: Recognizing That Everyone's Journey is Unique
Adapting to Life Changes: Adjusting Your Weight Loss Plan to Different Situations
Celebrating Non-Scale Victories: Recognizing Achievements Beyond the Numbers
Sustaining Long-Term Success: Strategies for Maintaining Weight Loss and Healthy Habits
Building Your Support Network: Identifying and Engaging Your Dream Team
Order our Weight Loss PLR membership. You'll immediately receive all prior released weight loss article packs from 2022 and 2023 to download immediately!
Buy now opens to a new window so you won't lose this one.