Self Care for Small Business Owners - 12 High Quality PLR Articles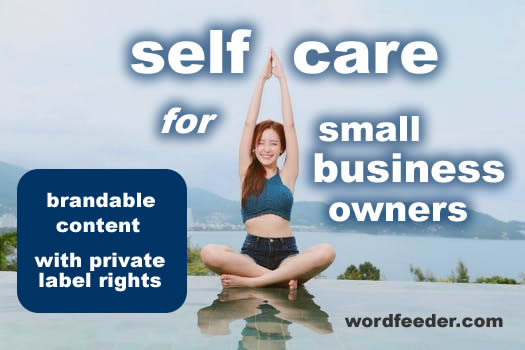 Rebrandable Content for You to Grow Your List and Profit From
Hey there, busy blogger! Have you or your readers set aside some time for self-care? It's so important for our overall health, longevity, success and happiness.
The best time for self care is... now.
Self-Care PLR - Blog Posts, Articles, or Ebook Content - 7,832 words for instant download.
Put your name on this content, edit it, publish it wherever you like. It's YOURS as soon as the online order goes through.
Here's a list of titles included with this information-rich pack of PLR articles:

Self Care for Small Business Owners - Intro
Self Care for Small Biz Owners: But What if You Don't Want to Take a Break?
Simple and Effective Stretches for People Who Spend Long Hours at a Computer
Too Much Computer? 5 Signs It's Time to Stretch and Move
Yoga "Cheats" That You Can Do Right at Your Desk
Self-Care Tip: End Your Busy Day With a Lavender and Epsom Salt Soak
Vitamin D: Dose Yourself in Any Season
Yes, Even Out of Shape and Overweight People Can Benefit from a Yoga Self-Care Practice
Bed Yoga Ensures a Better Night's Sleep
"I Forgot How to Breathe!" Breathing Techniques for When You've Spent Too Much Time at the Computer Again
A Cup of Relaxation: Best Herbal Teas to Wind Down With
It's Important to Step Away from the Screen: Work Projects You Can Do Without a Computer
Here's a Writing Sample