What Can You Do With Pre-Written Website Content?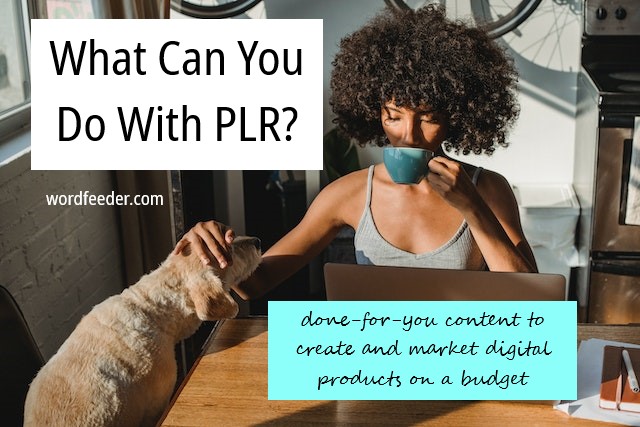 Anyone who is familiar with Wordfeeder knows that this was once the exclusive home of my copywriting services.
I still DO offer copywriting and copy editing to select clients. But now I also offer pre-written website content that's been crafted by people whom I trust to do a great job.
And by the way? As someone who only recently discovered PLR Content...
I wish I knew then what I know now about much of a productivity booster and creative inspiration it can be!
If I had known, I would have told my copywriting clients years ago how much more they could have produced, published, and offered both as freebies and as paid products, to their fans and followers, simply by having these low-priced writing helpers in their hands.
What is PLR Content, again?
Let me explain more about PLR website content packs. "PLR" stands for Private Label Rights, which you can learn more about by clicking the link.
These are pre-written articles that cover a particular topic of interest. The articles come in sets, which you can do a lot with. You can break up the sets, and blog them one at a time. Or, you can package them together and present to your readers in an ebook or e-course.
Who would want to buy PLR website content, and why?
Let me give you a real-life example. Let's say you're a relationships expert. You could be a coach, counselor, therapist, psychologist, or other. You're growing your fan base and you have amassed a collection of followers on Facebook, LinkedIn, and via email.
The problem is that you're running out of things to say. Your energy is waning and you've lost the attention of your readers.
Now, you may worry that if you're buying generic content for your site, that someone else will have also bought said content, and so you'll seem like you're echoing or copying what they already said.
But actually, if you edit the content and make it your own, you'll find that it works perfectly as the basis for an entirely new informational series that speaks in your own voice and brand. And all because you have this "website content bundle" or "information pack" right in your hands, to use as the skeleton for your project.
Here's a tip for rebranding the content.
Think about word choice. "Toxic people" is a very common term. But in the psych world, some might call them "Narcissists" (also trending big right now), and in the New Age self help universe they're often known as "emotional vampires."
So, as you can see, simply by modifying the language that you use, you can take a content pack and re-brand it to fit with your own style. Add your own examples and philosophies, and this handy content pack has now resulted in a beautiful, finished product that you can share or sell on your website and help build your brand, for a small fraction of what it would have cost to hire a ghostwriter.
I have already bought and used content packs in my own marketing. I know they work. That's why I'm so excited to share them with you now.