How to Monetize Your Holiday/Christmas Stress Blog Articles Using Done-for-You Content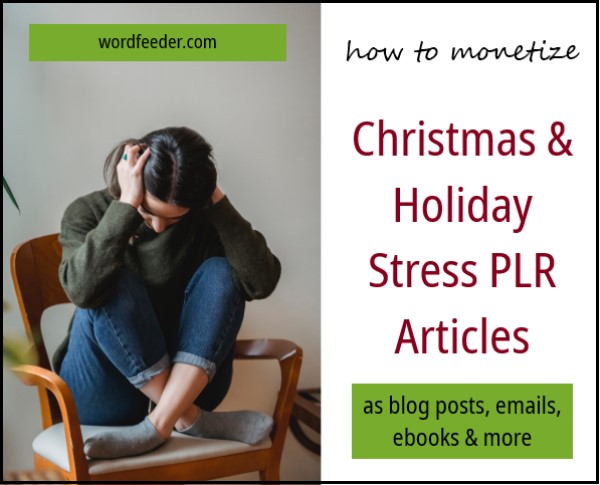 Option 1: Launch a Mini Holiday Stress Relief Course
Wondering what's the best way to monetize holiday stress articles that you publish this December?
Create a sales page of your own featuring the stress management course for purchase.
Link to the sales page, and add a lead in and call to action, at the end of every blog post.
Also do this in the sidebar of your blog or website.
Don't forget to promote the course each time you contact your list via email with a fresh holiday stress article.
Finally, share social media teasers that lead back to the articles on your blog.
We have a great done-for-you journaling challenge for you to launch.
Check out the All is Calm 7-Day Journaling Challenge with Private Label Rights.
Option 2: Publish helpful, stress-mitigating coping techniques.
Topics to cover: dealing with annoying relatives. Stressing about the budget. Gift-giving dilemmas. Travel stress. And all the holiday favorites!
Pick these up from our Holiday Stress Articles. Post each tip as its own post or article sent out via email.
Include images along with your post. You can get them in your Wordfeeder member area.
Offer an option for your followers to sign up for virtual spot coaching via email or Zoom.
Option 3: Publish a list of stress-relieving activities, remedies and products on your blog.
Search for items like crafting kits, herbal teas, hot water bottles, massagers, aromatherapy candles and diffusers, yoga mats, massage books, meditation books, coloring books.
Select a product and write a few sentences about how it helps and the main features.
Include links to Amazon and Etsy products.
Also include the upsell to your spot coaching service and/or journaling challenge.
Explore Wordfeeder's Holiday and Christmas Stress Articles with Private Label Rights, below. High Quality, Done-for-You Content at a Great Value: