Done-for-You Coaching Courses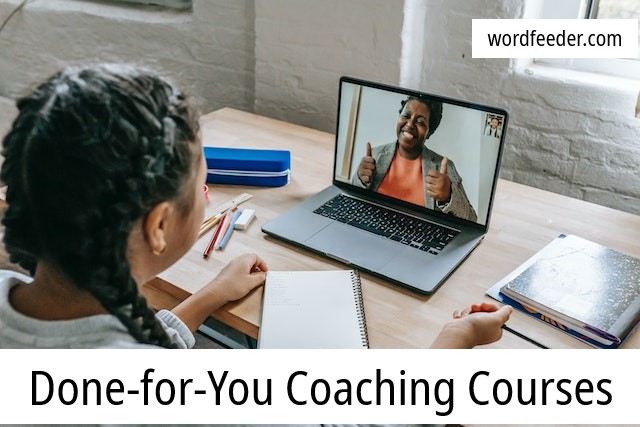 Wordfeeder is your source for done-for-you coaching courses that include the highest quality writing. Why launch a course?
It's fast and easy when you already have the content written
It's an affordable alternative to pricy coaching commitments
Digital products create another income stream by reaching a new market segment
Your followers who prefer self-coaching over having an accountability partner will LOVE being able to work on a course independently
A coaching course is a very economical way to help people solve problems, learn new things and initiate personal growth
You can edit, modify and relaunch the same course year after year
The course material can be used in a group coaching setting (FB private group, Zoom, in-person workshop) or as a special learning track for individual clients
We've Get Extremely Positive Feedback from Coaches Who Download and Customize Our Courses and Content to Launch as Their Own
"Your PLR is the best I've ever seen!"
Many thanks to you for what you provide - it is truly valuable to our business and our readership.
"Just downloaded it. It looks amazing. I plan on using it to create a workbook/journal for parents."
Methods for Launching a Course:
Sign up for a course creation platform like Teachable. Upload written content, student assignments, video content that you create, images, and any other pertinent course elements you wish to include.
Set up the course to deliver one lesson and assignment per day via email. Number of days/emails is up to you.
Add each lesson to a password-protected page of your WordPress blog. Students who sign up get password access.
Explore Our Done-for-You Coaching Courses Below:
Don't Miss Coach Glue - the Premier Source of Done-for-You Coaching Content
---
Our Content-Packed PLR Memberships Give You Enough Written Content to Create Your Own Course. See Below - Very Affordable Monthly Price
How to do it? Just choose related content packs of 15 or so articles each, to download. Put them together and edit/present as needed. Add your own branding, images and course elements like questions, journaling assignments, checklists and surveys. Add your coaching package upsells to the back!
Click each membership below to see a list of content packs you'll receive immediately.