PLR Newsletters - Index
The Money Really IS in the List. Now You Need Terrific, Informative PLR Content to Reach Them.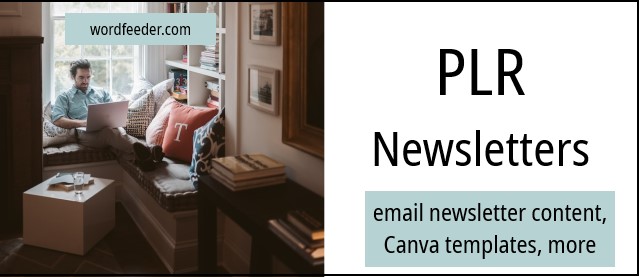 If you've sent out a company newsletter before, you know what happens. It brings you sales. If you haven't, you're leaving profitable possibilities on the table. So what's the problem? You don't have time to write content.
The formula for creating an email newsletter to send out to your list is simple.
First, have a product or service in mind that you want to offer. Even better if you're running a discount. This will prompt people to take action.
Next, write an article covering a topic related to the product. So if you're marketing a new nail clipper for dogs, send out newsletter that teaches how to safely trim a dog's nails.
What if you REALLY don't like writing? Should you not send a newsletter?
Of course you still should. Your written message will be the THING that prompts people to buy the product. So if writing isn't your wheelhouse, find another source of content, such as the done-for-you content that we offer on Wordfeeder PLR.
Just sign up for a PLR membership. Purchase an affordable article pack from our PLR Store. Download the file in MS Word, and you're ready to copy, paste, edit and publish.
Paste the article into the body of your newsletter. Add a blurb that shares the offer on your product. Link to the sales page where customers can learn more. Add your greeing and closing. Hit send!