Testimonials from Kind Customers - Wordfeeder PLR Reviews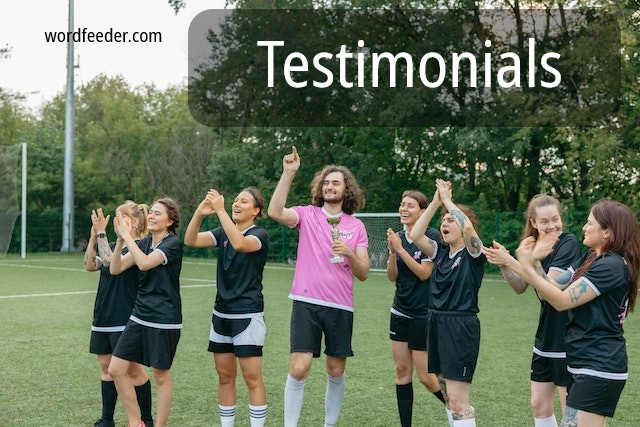 Thank you to the kind people who took a moment from their busy day to send me a letter of appreciation. That keeps me motivated to keep the content coming to you!
---
DELIGHTFUL! Generous, thanks! I think my audience will enjoy this. Thanks again.- Mim
---
Hi Dina, This is great! Thanks for getting options back to me so quickly. I'm planning to work on the design this weekend and this will be a huge help. Your copy is bringing a lot more excitement to the project which is exactly what I needed! I may check back with you on Monday or Tuesday for some fine tuning depending on how the design plays out. Hoping to call this project done by mid-week. Thank you! It's fun working with you again!!
- J. Lowell, Graphic Design Professional
---
Hello Dina, I wanted to reach out (rather emotionally) and send you my gratitude for your wonderful content. I purchased the 15 DIY Marketing Tips PLR package as well as downloaded some of your free PLR content focused on business.
Your article about working from home during the epidemic was not only spot on for me personally right now, but also for my business. This really saved the day this week - and I was able to get a quality blog post up in no time on short notice!
...Many thanks to you for what you provide - it is truly valuable to our business and our readership.
I foresee that we will continue to be loyal customers for the duration of our business, and I am more than happy to recommend you to anyone who is in search of not only content for their business, but timely, relevant, and high quality writing at that.
With many thanks,
Samantha Teague Decked Out Wellness
---
"I am SO HAPPY with your products. And the PLR content from other sources you have provided me is so helpful."  
-TA, Licensed therapist in NYC, offering feedback on our Life Coaching PLR Monthly
---
"Hi Dina… when I read your Self-Talk PLR email offer, a book popped into my head that I could quickly write using your articles. I have research material that I can use to "beef up" what you have written. Thanks for writing great content! It saved me many hours of writing it myself - time that I don't have right now."
- Ron K., Freelance Writer
---
"I love your content! It has been an absolute success with my clients and potential clients. The monthly content subscription is an absolute life saver!" - N., Coach, reacting to the Life Coaching, Self Help & Mental Health PLR Membership
"Thank you again! This is amazing content and I am so happy that there is a monthly PLR membership." - N., Self help blogger 
---
"You are actually one of my favorite PLR writers."
- K., Health Blogger, on Transform Your Yoga Rebrandable Wellness Course
---
"Your PLR is the BEST I have ever seen! Your writing is great! Thank you and I appreciate the coupon."
- A., Natural Health Blogger, on Essential Oils PLR
---
"Just downloaded it. It looks amazing. I plan on using it to create a workbook/journal for parents."
- M., Therapist, reacting to 30 Days Thankful Challenge PLR Course
---
Review of Wordfeeder's "Attitude of Gratitude 30-Day Challenge PLR"
Review by: Susie O'Dea, Master PLR
"Dina asked me if I would review her 'Attitude of Gratitude' articles and exercise PLR packs. To be honest I wasn't sure what to expect, as I love reading self help, inspirational books, and have a positive, optimistic attitude. So Dina's content was going to have to be really good to impress me before I could give my honest review!
Well, it was easy to give my review as they're excellent! They were deep and meaningful and kept me reading!
"Useful Across Many Niches"
What I also liked is they can be used across many niches, which means they are not just targeting one specific market. Anyone can benefit from an attitude of gratitude! These packages will certainly help you to grow your list however you decide to use them.
As Dina has created them as a series... 6 days in each pack... you can easily create a free 6 day autoresponder ecourse. If you are creating a relationship with your new customers, you may even want to be super generous and offer them the full 30 days for free.
Alternatively, you can use the first 6 free days to lead your customer into your own paid product. They can receive the first 6 days free and then pay for a further 24-day challenge to learn an 'Attitude of Gratitude'.
Either way your customer will love this content and learn to trust you, as you will be providing them with quality and useful information."
Susie O'Dea, Master PLR
---