Positive Psychology Articles | Done-for-You Coaching Content with Private Label Rights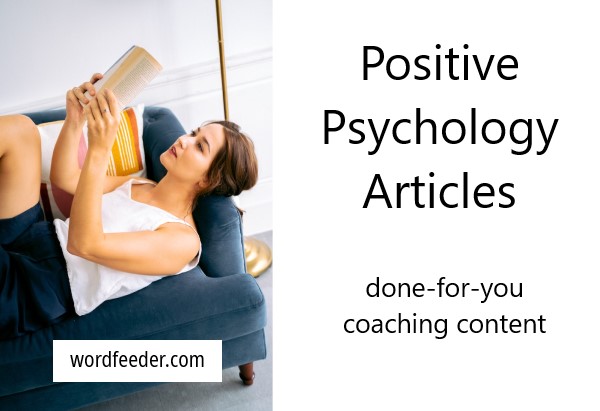 Are you a licensed clinical psychologist who prefers to take the positive psychology approach to helping people overcome their personal challenges? Are you looking to build your name and reputation in the psychology niche or coaching field online?
To establish yourself as an expert in your niche, you'll need to publish exceptional quality content. Wordfeeder provides a done-for-you content shortcut to give you back your time AND have better control over how much you invest in your business. Stop paying thousands per year to a ghostwriter or copywriter. Stop trying to do it all yourself.
Explore our psychology article collection and see for yourself how much more you can accomplish with private label rights content on your side. You get to turn these well-researched, expertly written articles into ebooks to sell or share, lead magnets, client learning materials, workshops, coaching packages and blog or social media content marketing to grow your business.
Popular Positive Psychology Topics for Psychologists and Life Coaches: Gratitude, Mindfulness, Self Talk and Many Others
Also Explore Other Positive Psych Topics, Like...