Private Label Rights Content is NOT Plagiarism... IF You Use it Properly.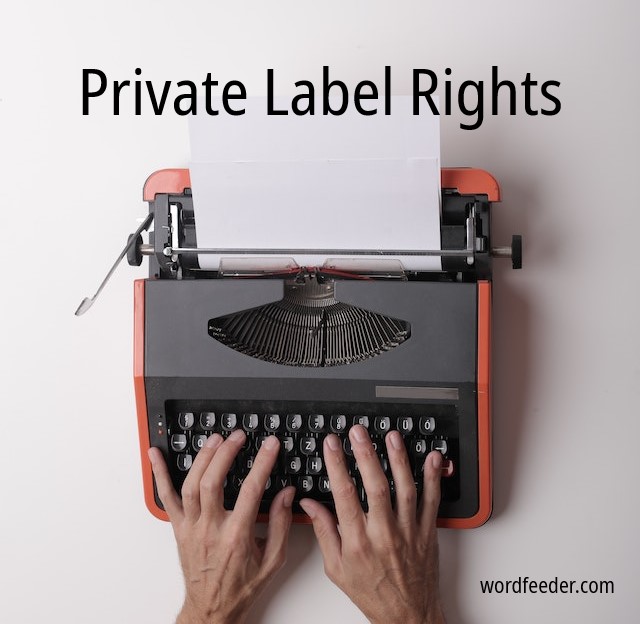 Use PLR as a Shortcut to Create Your Own Content. Publish More Information Faster, and Save Boatloads of Money
If you Google PLR, you'll likely find articles which claim that PLR is plagiarism. Let's clear this up. The articles are likely written by someone who feels threatened by the industry... probably a writer who is paid by the hour.
The usage license that comes with private label rights content will state what you can and cannot do with it, including editing, selling, sharing, adding your branding, etc.
The concept of "private label" is nothing new. You purchase private label products at the store all the time and don't think about it. Examples: No-frills versus big brand names of your favorite packaged foods - like cereal, ketchup, etc.
That trendy new wine you picked up was very likely aged and bottled by one company. Then it was distributed to others who bought the wine without a label, to brand and sell. Same goes for software. It's called OEM (Original Equipment Manufacturer).
If you publish web content, you likely signed up for a stock image website membership. These images are offered up with the right to use them in your own creations, then sell and share those creations.
I came across some really good information from Shannon and Steph of Monthly Content Shortcuts. The article they shared reminded people that PLR has been around since the early days of publishing. It was a way to get good, accurate information and obtain details that had already been researched and fact-checked by writing professionals.
Always check with the originator of the image or other content for info on how it's permitted to be used.
No, You Cannot Buy a PLR Ebook to Copywright as a Book to Sell
NOTE: You are not permitted to copywright PLR content as your own, original published works. That means if you purchase PLR in ebook format, you won't be able to sell it as a physical book that's copyrighted under your name. Websites like Lulu and Amazon Kindle do not permit PLR ebooks to be sold as a digital product on their sites.
(Yes, you could use PLR to create a book, but you'd really need to rewrite what was there and turn it into something completely different. Yes, I have done this. It's possible and if done right, the original content is unrecognizable.)
Yes, You Can Purchase a PLR Ebook, Edit it and Resell it As Your Own Digital Product (Ebook)
The difference is that you're not approaching the US Copyright office with the manuscript for a book that you intend to copyright as an original works. People sell ebooks/digital products all the time without a copyright.
---
Learn to Create Profits with High Quality PLR Articles, Ebook Content, Planners, Images and MORE. Low-Cost Content from Trusted Experts
Try Our Affordably Priced, High Quality Private Label Rights Content from Wordfeeder!